Church History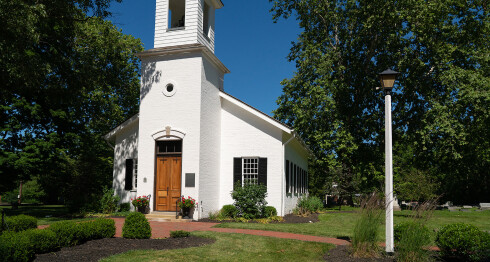 Old Chapel Worship Service
If you are looking for a storybook setting, this service is the one for you.
This intimate service takes place in the original 19th-century chapel and allows for
congregational input to our traditional worship accompanied by a pianist.
Loving and serving Indian Hill is a passion of ours that dates back over 200 years. The Old Chapel
has had a Worship Service every year since 1830. Our rich history is the best testimony of our commitment to this community.
The Early Years
The first Methodist "classes" in southeast Ohio began organizing around Milford starting in 1798. New territory was organized into circuits. The New Miami circuit was formed by following the Little Miami up to Mad River (Dayton), then down the Big Miami to the Ohio River. This circuit included the land that is now Indian Hill, and, like others being settled across the country, was served by a circuit rider.
Regardless of weather, food, and lodging, half of the circuit rider's time was spent in the saddle, incessantly riding from settlement to settlement preaching to each local church. Because the circuit rider only came occasionally, services were conducted by a local preacher, who labored six days along with the other men and then preached on Sunday.
The first circuit riders who served the new territory, and began Methodist worship in Indian Hill, were: Rev. John Kobler, Rev. Francis McCormick, Rev. Philip Gatch, and Bishop Francis Asbury.
The Arrival of the Armstrongs
Nathaniel Shepherd Armstrong was born in 1749 and lived near Baltimore, MD for 36 years. He acquired 200-300 acres of government land that was part of the "new land" that veterans of the American Revolution could claim following the war and worked a small farm on the property for the next 15 years with his six sons and three daughters.
It was one of Nathaniel's sons, John, who first went across the mountains looking for greener pastures. He found a promising mill site on the Little Miami River near what is now Newtown. John staked out some land and came home to urge all his family to follow.
Nathaniel sold the family farm for twelve to fifteen dollars an acre, gathered up their belongings in wagons, and set out. On June 22, 1800, after driving their wagons across the wilderness, waiting out flooded rivers, and floating on handmade flatboats down the Ohio River with all their worldly goods, the Armstrongs anchored at Columbia near Cincinnati.
The Armstrongs began building what would eventually be three grist and lumber mills that they ran, for many years, between Milford and Newtown. The family also began attending the Methodist "classes" that had been formed in the area, led by circuit rider Rev. Francis McCormick, and held in the log cabin of Rev. Philip Gatch.
The Old Chapel Is Built
By 1830, Nathaniel Armstrong, now 81 years old, had a prolific family, and all of his children had their own farms, mills, and enterprises throughout the Milford-Newtown area. More settlers had come to the surrounding area, and the little church that Philip Gatch had organized in Milford had become crowded. Enough now lived in the area to hold their own services in Nathaniel Armstrong's home, and they were preached to by Philip Gatch and other circuit riders.
On June 18, 1830, Nathaniel went before the Justice of the Peace in Hamilton County and set a deed of "one acre and twenty-seven poles strict measure" to provide a burying ground and meeting house for the Methodist church. The building was finished in 1831, and this building and land is the Old Chapel of our church to this day.
One of the few surviving records of the Old Chapel's earliest activities is a Sunday School Minute Book which records attendance and activities. Descendants of several of the original names recorded in that old Minute Book can be traced to families who live in and around Indian Hill today.