Armstrong Men are bold, brave and fearless; committed to grow spiritually, live like disciples and transform hearts and lives through Jesus Christ.
---

Stay tuned for the next great Men's Event. Check out the events page for pictures from the Golf Outing.
---
FRIDAY MORNING BIBLE STUDY: Join Pastor David Brown on Friday mornings at 6:30 a.m. in the Armstrong Room and via zoom. Donuts provided on a rotating basis by members of the group. Click the button below to sign up.
BREAKFAST GROUP: Weekly breakfast, discussion, support and friendship! Meeting via Zoom. More details contact Bill Woodward or David Troller.
THE NOONER'S LUNCH GROUP: 12:00-1:00 pm, at Ferrari's. Every other week. Next meeting: May 26th. Led by Bryan Holland. Fellowship, prayer and devotion.
BURGERS, BREWS AND THE BIBLE: 6:30-8:00 pm, 50 West, Thursdays on July 8, 22, and August 5. A 3-week study on the book, Three Simple Rules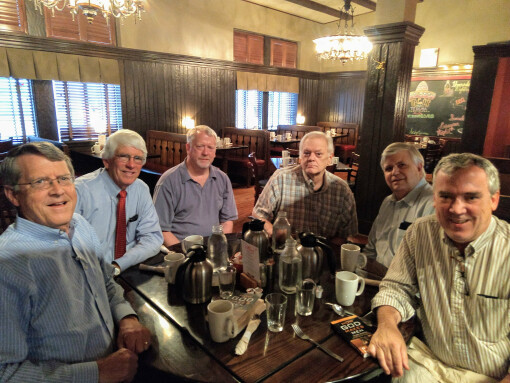 Contact the church office or complete the form below to get involved with any of these men's groups.
SuperCharge
Pictures from previous SuperCharge events
Madisonville Braves Baseball Celebration
July 14, 2019