Worship Services
Armstrong Chapel offers three unique worship services every Sunday morning.
8:20 - Old Chapel
As the name implies, this service meets in the old chapel that was the original church building founded in 1831. The Old Chapel has been in continuous use for worship ever since. Sunday morning worship features a traditional order of worship and a hymn sing in an intimate environment. Weddings and funerals are also often hosted here.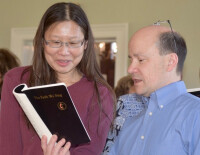 9:40 - Traditional
This classic worship service is held in the main building sanctuary. The service features organ or piano music, a chancel choir, and handbell choir in a traditional order of worship.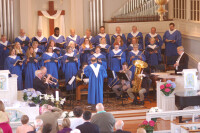 10:00 - Faith Infusion
An energizing service with a contemporary, yet timeless, style. Located in the Worship Center of the main building, this service uses a dynamic blend of Gospel-centered preaching, music, videos, drama and other art forms to create a worship experience that draws the congregation into a dynamic encounter with the Living God.
WHERE IS…?
Have you ever wondered what the inside of the Old Chapel looks like? Do you know how to locate our youth in their unique space or where to find a bathroom with a shower? Then the monthly Hospitality Tour is for you!
On the first Sunday of each month, a tour of the church is available for anyone who would like to know more about Armstrong Chapel or see the different places ministry occurs. For those interested, please gather at the Connect Desk in the Atrium at 11:15am or at the conclusion of Faith Infusion worship. Questions? See the hosts at the Connect Desk or Pastor
Kathleen.
Next Tour: July 1st