Dear Members and Friends at Armstrong Chapel,
"There is a time for everything, and a season for every activity under the heavens."—Ecclesiastes 3:1
With the kind cooperation of Lead Pastor David Brown and the wisdom and support of the Staff Parish Relations Committee (SPRC), I have determined that I will retire from my present position as Associate Pastor of Congregational Care at Armstrong Chapel. This will be official as of December 31, 2018.
Looking back on sixty years of pastoral ministry, I can honestly share with you that the past thirteen years have been the most enjoyed and appreciated.
It is our desire to remain faithful to the United Methodist Church, "and uphold it by our prayers, presence, gifts, service and witness."
We extend to each of you…
Our love, hope and prayers,
Stanley and Karen Lawrence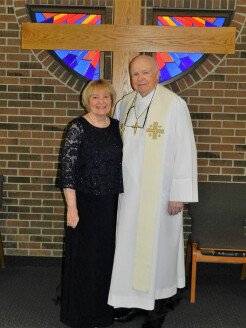 The SPRC and Pastor David are excited that Stan will assume the role of 'pastor emeritus.' This honorary position will allow Armstrong Chapel to be blessed in the gifts and graces of ministry Stan offers without the daily demands of schedule and duty. As opportunity allows, Stan will continue to preach, pray, and care for the ministries of the church.
Watch for more plans as we prepare a Celebration of Ministry (this is not a farewell!) on November 4, 2018.