Adult Discipleship-Women's Events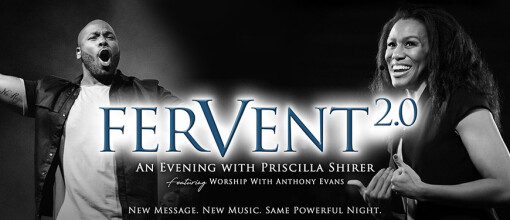 Tuesday, October 29th
7:00 pm (Doors open at 6pm)
Tri-County Assembly of God Church, 7350 Dixie Highway, Fairfield
Tickets: $17 (Must have a group of 20+ for this pricing.)
Gather for dinner at Olive Garden near the event at 4:45pm
Tickets are going fast! Respond by April 16 so we can get seats.
ABOUT THE TOUR: You're invited to join dynamic brother-sister duo Anthony Evans and Priscilla Shirer for FerVent 2.0! FerVent events were introduced 3 years ago with over 30 sold out evenings. This unforgettable event continues in 2019 with exciting new music from Anthony's upcoming worship album, and an unforgettable new message inspired by Priscilla's newest film Overcomer!
---
Thank you to all who attended and worked to make Missions and Meaning a success. Watch this short video to see a snapshot of the day.