Who We Are

Mission Statement
The student ministry of Armstrong Chapel welcomes students and families to worship, learn, serve and grow in the development of a life-long relationship with Jesus Christ.
Core Values
Christ-Centered: We create a ministry where Christ is at the heart of everything we do and everything we are.
Christ's Love: We demonstrate unwavering love for all, including those who are different from ourselves.
Biblically-Based: We design programs that explore the teachings of the Bible and connect them in relevant ways to the lives of today's students.
Serving Spirit: We humbly and joyfully put the needs of others before our own.
Welcoming: We foster an inclusive, accepting, and nurturing community.
Student-Led: We empower students to lead through relational ministry among their peers and the world.
Weekly Activities
Wednesday VI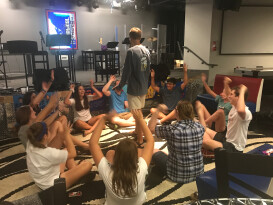 Every Wednesday we gather down in the L, as in lower level lounge, at 7pm to play some crazy VI games, sing along with the praise band, and hear a great message as we hang out together. Be sure to get here early and check out the fabulous food spread before we start. We look forward to seeing you!
Small Group Ministry (SGM)
Our Wednesdays and Christian Education offerings are great for bringing everyone together, but sometimes it is nice to discuss life in a smaller more intimate environment. That's why we have our small group ministry! It is a time set aside for us to grow closer to each other by discussing questions about how our lives and walk with Jesus are going. It's a wonderful time of encouragement and prayer. Small groups run from 6:00p to 7:30p on Sundays from October to April in the lower level.
VI Christian Education
At VI we love to worship with our congregation on Sunday mornings at the 8:20, 9:40, or 10:00 am services. Then, periodically, on Sundays we offer Christian Education opportunities from 11:00 to 12:15. Those range from confirmation class, to a college prep class for our seniors, and other specialized opportunities as they arise.
We also have a weekday Bible Study that meets every other Monday at Coffee Please in Madeira. It's a great place for students to gather to have some informal and organic conversations about scripture. Check out our calendar to see specific dates for this opportunity.
---
Special Offerings and Events
Events
Vertical Impact is all about fun and fellowship. These are regular events or outings that take place during the year. Stay tuned though because you never know when another one might pop up. Reference the full calendar for all the details.
Retreats and Mission Trips
Elevation is a week long opportunity for students to leave the electronics and hustle of every day life at home and get away. Getting away provides students an opportunity to ramp up the fellowship and go out into the world. This year, Elevation has joined forces with Camp United. Click to learn more.
Mission Trip 2018 is headed to Nashville! During the week in Nashville students will have the opportunity to gain a wide range of unique ministry experiences that can only be found in the Music City.
Confirmation
Confirmation is a time for our students learn about and grow in their walk with the Lord. This journey runs from November until March every year with classes being held on Sunday mornings from 11:00a till 12:15. During this time students will learn both the foundational tenants of the Christian faith and some of the wonderfully unique facets of the United Methodist Church. At the end of that journey, they will have the choice to become an official member of Armstrong Chapel United Methodist Church. Details and registration information will be mailed to all 8th-grade students and any interested high school students. Contact Wendy Ransom in the church office if you have any questions.
College Prep Class
This class is designed for our seniors as they prepare to transition to college, or the next stage of life. It is 10 great sessions covering practical spiritual and life lessons that will help prepare you to make the jump out of high school and into college/workforce and successfully take your faith with you. It covers everything from budgeting to how to find Christian community on and around the school to reminders of God's grace.
The class is offered from 11:00 am to Noon in the Lower Level.
2017-18 Class Dates: November 5th & 12th, December 3rd & 10th, January 7th & 21st, February 4th & 18th, March 4th & 18th.
Graduate Recognition Sunday - May 20th
We are very proud of our graduating high school seniors and anyone who may be graduating from college and would like to personally invite you to join us for Graduate Recognition at any of our services, 8:20, 9:40 or 10:00.
Vertical Impact Photo Gallery