Men's Ministry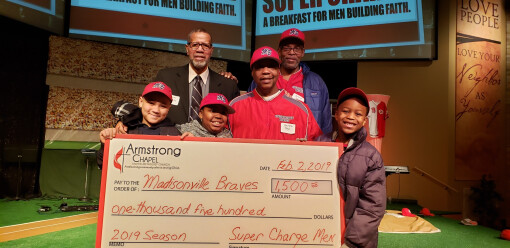 Presentation of the Supercharge donation to the Madisonville Braves
---
FRIDAY MORNING BIBLE STUDY: Join Pastor David Brown on Friday mornings at 6:30 a.m. in the Armstrong Room. Donuts provided on a rotating basis by members of the group. Click the button below to sign up.
BREAKFAST GROUP: Weekly breakfast, discussion, support and friendship! Every Wednesday at 7:15 a.m. at the National Exemplar in Mariemont. For more information, contact Bill Woodward or the church office. Current Book: The Reason for God by Timothy Keller
MEN'S MOVIE MINISTRY: Be ready for a last minute call or email to catch a current thought provoking film at a nearby theatre. The Mighty Methodist Men's Movie Ministry brings together guys for the film and follow up social gathering. Sometimes wives are bold enough to join us. Contact Tom Campbell through contact form below to get on the email list for notifications of planned movie screenings.
MORE THAN BEER: A casual gathering of guys who take a break from work & family activities for a monastic alcohol influenced theological discussion. Meet at 8 p.m. on the 2nd Friday at the Little Miami Brewery in Milford. Led by Brian Cordell.
NIGHT AT THE REDS: Help sell or buy tickets to a Reds Vs. Astros game on Sunday, June 16th @1:00pm. Net profit will go to pay for an end of season party & awards for kids playing for the Madisonville Braves. Purchase tickets for the game on Sunday morning at church.
EQUIPMENT BOX: Build an equipment box and fill it with baseballs, bats, helmets and other field maintenance gear so the Madisonville Braves can have a successful Knothole baseball season. Contact John Westrup.
MADISONVILLE BRAVES PARTY: Help the coaches of the Madisonville Braves give their kids an end of season awards party to celebrate a great season. Contact Tom Rhodenbaugh
HABITAT FOR HUMANITY: Visit our Serve Community page for more information or contact Geoff Smith.
Contact the church office or complete the form below to get involved with any of these men's groups.
---
Super Charge 2018 was a huge success. 100 Men banded together in brotherhood to hear featured speaker, Chad Williams. Author of his new book SEAL of God, Chad shared about his journey through the grueling Naval Ops training and onto the streets of Iraq, where he witnessed the horrors of war up close. Chad shared his own radical conversion story and talked about how he drew on his own experiences as a SEAL to help others better understand the depths of Christ's sacrifice and love.
39,700 meals were prepared for A Child's Hope International.