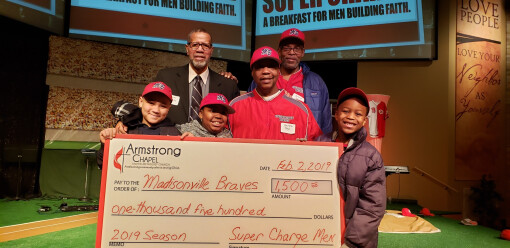 Presentation of the Supercharge donation to the Madisonville Braves
---
FRIDAY MORNING BIBLE STUDY: Join Pastor David Brown on Friday mornings at 6:30 a.m. in the Armstrong Room. Donuts provided on a rotating basis by members of the group. Click the button below to sign up.
BREAKFAST GROUP: Weekly breakfast, discussion, support and friendship! Every Wednesday at 7:15 a.m. at the National Exemplar in Mariemont. For more information, contact Bill Woodward or the church office. Current Book: "How GOD Makes Men" Each week a study of one of the 10 most well-known Men in the Bible. Wednesday – Jun. 19th Moses – How God Changes a Man's Character. Free Books available in the Atrium. More details contact Bill Woodward or Garen Wisner.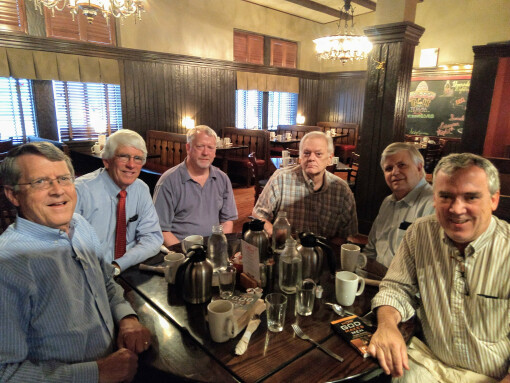 MEN'S MOVIE MINISTRY: Be ready for a last minute call or email to catch a current thought provoking film at a nearby theatre. The Mighty Methodist Men's Movie Ministry brings together guys for the film and follow up social gathering. Sometimes wives are bold enough to join us. Contact Tom Campbell through contact form below to get on the email list for notifications of planned movie screenings.
MADISONVILLE BRAVES PARTY: Help the coaches of the Madisonville Braves give their kids an end of season awards party to celebrate a great season. Contact Tom Rhodenbaugh
HABITAT FOR HUMANITY: Visit our Serve Community page for more information or contact Geoff Smith.
Contact the church office or complete the form below to get involved with any of these men's groups.